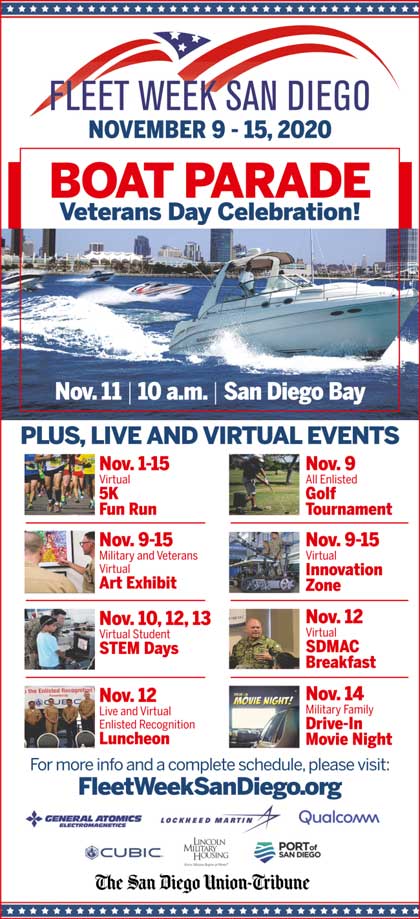 Veterans Day boat parade highlights San Diego Fleet Week
SAN DIEGO - The Maritime Museum of San Diego's restored Vietnam era PCF 816 Swift Boat will lead The Fleet Week Veterans Day Parade starting at 10 a.m. Wednesday, Nov. 11 with San Diego veterans embarked aboard the patrol craft vessel.
The Leap Frogs, the Navy's elite parachuting team, will do two performances during the parade, landing aboard the USS Midway Museum. There will also be live demonstrations by the Coast Guard sector San Diego search and rescue teams, flyovers by vintage aircraft. Pleasure boats representing the San Diego boating community will be decorated in mlitary and patriotic themes.
The 139-foot yacht America and Flagship Cruises' "Patriot" jet boat will also host San Diego vets during the parade.
The boat parade begins at Shelter Island, and will proceed towards the downtown skyline and work its way up to Coronado Bridge where boats will cross the Bay and proceed south along the Coronado shoreline. Boaters who want to participate can register at https://fleetweeksandiego.org. This will be a family-friendly event visible to the public at many locations around San Diego Bay and presents a great opportunity for the San Diego community to honor and thank the men and women who are currently serving and have previously served as member of our Armed Forces.
The Boat Parade will also be "Live Streamed", and available free to the public at the Fleet Week website at https://fleetweeksandiego.org.
The Fleet Week San Diego week-long series of events kicks off with a golf tournament Monday, Nov. 9 for enlisted service men and woman at Sycuan Resort, and wraps up with military family drive-in movie night on Saturday, Nov. 14 at the Lexus parking lot at PETCO Park.
See schedule of events at https://fleetweeksandiego.org.
About Fleet Week San Diego
Fleet Week San Diego is a 501(c) (3) nonprofit foundation created by community and business leaders to honor and celebrate the men and women of the military through public events and alliances that support and thank these heroes. The Chamber of Commerce gave birth to Fleet Week San Diego in 1997 and by 2001 the event had grown into a nonprofit California Public Benefit Corporation. By expressing its support for the contributions made by the sea services to the many communities of the greater San Diego region, Fleet Week San Diego helps to maintain the vision of San Diego as a patriotic, pro-military city.

Military News | Navy News | Fleet Week San Diego 2020